I have written a book.
That's right, a whole, full, book.
If you have never seen any of my posts before now, this is the one to read.
So, eight months ago, I started writing Grow - Stories for the 'average' foster carer and it has been a journey and a half.
So, the premise of the book is fairly simple and you can probably tell from the title of the book but I am going to explain what it's about anyway.
Grow is a collection of short stories all about the foster care system in England. My parents have been fostering children for many years and as their child, I have witnessed many things. Grow focuses on four, individual children and a moment in time, which I remember vividly about having them in my families care.
This book's aim was to look at both the positive and negatives of foster care and how my parent's dealt with every situation with love and professionalism.
Right now, the book is available to purchase on
Blurb
, but soon, it will be up on Amazon!
This post is going to be short and sweet!
But, if you want to buy a copy of my book, click the link below and help support a young, aspiring author!
Thank you so much for your support!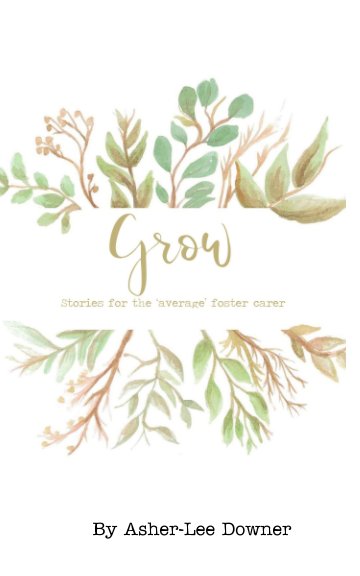 As 2019 carries on flying by, I think it is the right time to write a blog post, documenting all the things I have learnt so far this year. We are already half-way through the year, how crazy? Like, we are already, currently in the sixth month of the year. Which to me is absolutely crazy. It felt like only yesterday, it was Christmas day and now, I am waiting for summer to eventually turn up.
Okay, so let's talk about learning curves.
Hard Work
Something I have learnt so far, this year is all about hard work.
Now, this point is kind of vague, but I will do my best to explain it. Hard work is something that people talk about all the time, if you put in a good amount of work, you will get the result you want. It wasn't until this year, that this really rung true for me. I worked extremely, ridiculously hard for my degree and here I am, with a first-class in Media and Creative Writing. If you truly want something, work hard for it and there is no way you can fail.
Little Changes Mean a Lot
If you have been following me and reading my blog for a while, you would know that I have recently stopped eating meat. A small change I could make that will help the environment as well as help me become more healthy. As well as this, late last year, I actually started using vegan and cruelty-free makeup (see
this
post). Which is where
Poppy Austin
comes in.
Poppy Austin
is a company which specialises in creating 100% vegan, cruelty-free makeup, which is not only good for the environment but is also not cruel to all our furry, fluffy and scaly friends.
Now, back when I first started blogging, I wrote a review of
Poppy Austin's
mascara, which is where my obsession for their makeup started.
(Read that old, embarrassing post here.)
And since then, I have quite a few of their products and I am lucky enough to be working with them again. Changing your makeup to cruelty-free is one small, easy change you can make in your everyday life. So let's briefly talk about this new, vegan
eyelash serum.
So, recently,
Poppy Austin
has come out with this
eyelash serum,
which is made to lengthen and thicken your eyelashes to make them appear more full. Now, I was drawn to this product originally because of the earthy, woody pattern on the outside of the bottle.
In my quest to find, good quality, cruelty-free makeup, I have come across many products which don't live up to the hype. Using products that are good for the environment, doesn't mean you have to compromise the quality of it.
I would highly recommend making the switch with your daily makeup and giving
Poppy Austin
a chance.
~Sponsored
content~
Comparing yourself will only disappoint you
Recognising somebody else's achievements, doesn't take away from your own. It will do you now good, to compete with someone else. Work on yourself, for yourself. Attach yourself to people who have the same or similar goals to you, but you do you. At the end of the day, the only person you truly need to impress is yourself.
I need to sleep
This sounds stupid and probably extremely obvious. Yes, Asher, human beings need to sleep.
But, I guess what I actually mean is, I need a break. Sometimes, things are more important than others. Sometimes, it is okay not to feel guilty or sympathetic or actually anything at all. Sometimes, you can lay in bed all day with a book or watching a film and not beat yourself up for not doing anything productive. Sometimes, you can go to bed early and think about all the things you have achieved rather than failed or not completed.
Basically, go to bed earlier, Asher.
* * * * * * * * * * *
Shop this post:
Use discount code Asher015 to get 15% off!
* * * * * * * * * * *
*this post is sponsored but all opinions are my own.